Case Study
Scaling Domain's home loans business
Domain is a real estate search marketplace. I joined at an inflection point, when the business was extending into transactional services, starting with home loans. The loans business, which is a joint venture with an online mortgage broker, would help Domain move closer to being an end-to-end property portal for all property-related needs.
I was a core contributor to the home loans team in the first year. This included leading user research, design of acquisition drivers and foundational features, and bringing the development team on the journey.
Problems with user acquisition
Converting an existing search audience into leads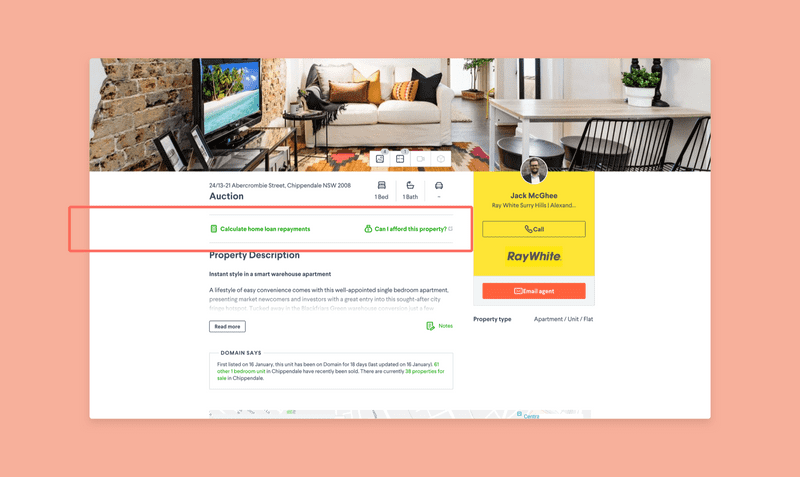 The ability to grow lead volume was critical in the early days, as we needed to prove the viability of the service. Despite knowing that securing finance is a key step on the path to property purchase, we only had a basic repayments calculator to help users work out how much they could afford. Users may have a real need to understand their financial position, but because we didn't offer the right tools to help them, they won't think to turn to Domain for their home loan.
Understanding the home loans journey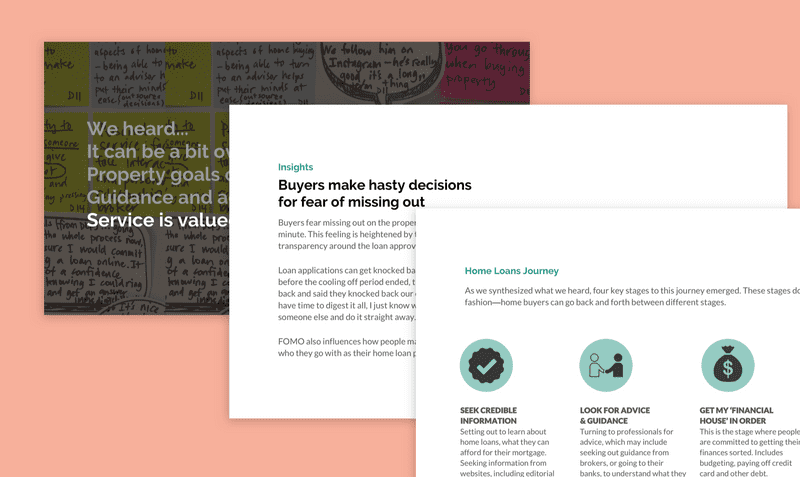 Property seekers have deeply varied experiences. Understanding the home loans experience is necessary to design a good experience. I led user research and interviewed 20+ users to understand and contextualise the home loans experience within the larger property journey.
I faced resistance at first. There was no budget allocated to do this kind of discovery research. I reframed it was an opportunity; understanding user needs would help us grow the product. Learning what's important to home buyers also helps the team determine the value prop for the product.
Separate user accounts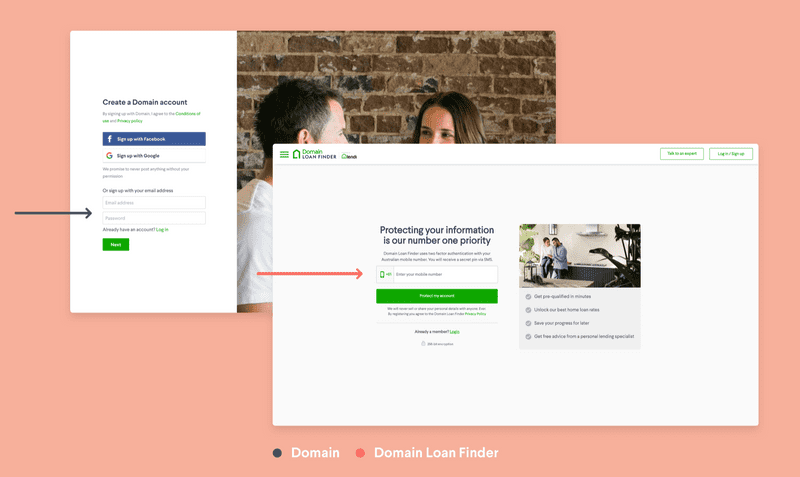 To make Domain the home for all your property needs, we needed to enable an integrated search and financing experience. The Domain Loan Finder product leveraged an existing software platform, which initially allowed for speed to market, but it also required users to sign up with their mobile number, a different set of credentials to Domain signup. Neither users or the business should be happy about that. This is also a problem from a testing and data analytics perspective. We couldn't simply pass data from one service to the other and therefore weren't able to provide an integrated experience.
Solutions to scale leads
Tools for high-intent users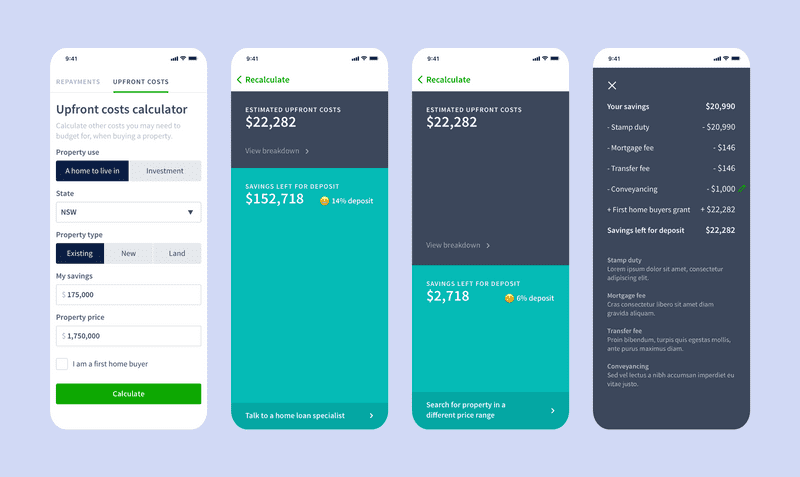 I partnered with a visual designer to design a new set of finance calculators for Domain, including an upfront costs calculator. While at it, we took the opportunity to optimise the content for high quality leads, recognising that users with less than 10% deposit would have trouble getting a lender to lend to them. Call-to-actions were taillored to only prompt users with enough deposit to talk to one of our brokers. Those with less than 10% deposit were directed back to property search or to relevant advice articles.
A more compelling value proposition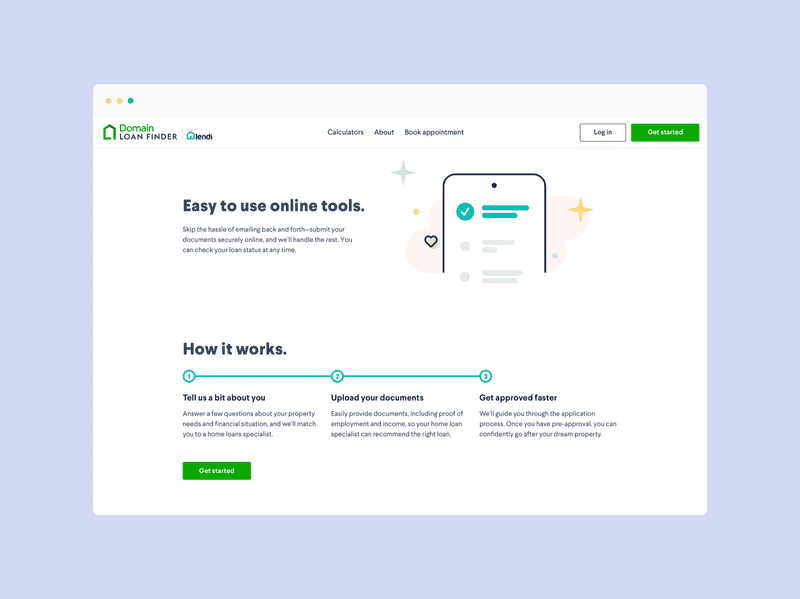 When the home loans service was first launched, a hastily built landing page provided little in the way of a compelling value proposition to Domain users. Through talking to home buyers, we discovered what actually mattered to users—which was not the best rate, but a service where they had access to a trusted advisor to help them navigate the pitfalls of securing finance.
The new design of the page refocuses the value proposition and presents the product not just as an online broker, but a service company there to help you achieve your goal of home ownership.
Streamlining signup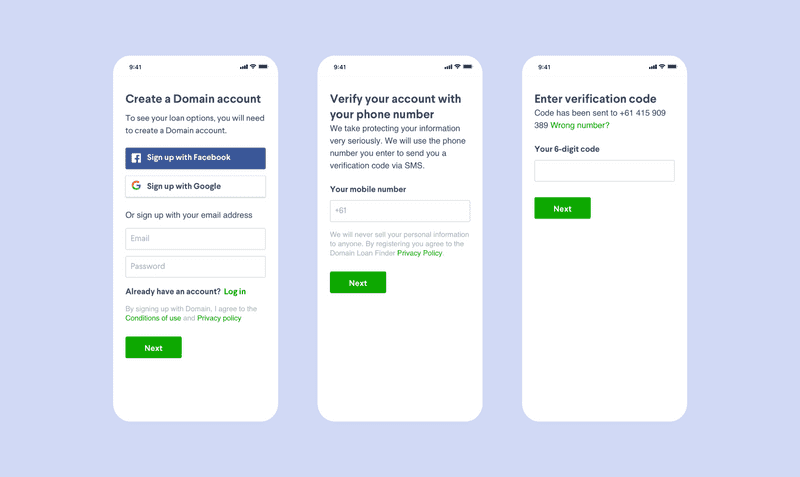 An integrated search and finance experience needs a single sign-on. With the redesign of the signup flow, we made signing up to Domain a necessary step of creating a Domain Loan Finder account. On a practical level, this allows us to pass data between the two services, such as the user's home loan progress.
Conclusion
After a year, we had grown the home loans business into a viable revenue stream, by connecting an existing audience to the value of a new product. This was done through testing the market, seeing what works, and iterating on solutions. While driving conversion rate was a high priority business goal, it was important to identify the user value we are providing, as this allows the business to grow in the long run.